Electrical Expert Witness? Electrical dispute? Do you require the services of an experienced electrical expert witness? CPR 35 expert report? Contact Fraser George !!
Electrical components – What is a transistor?
A transistor is a 'semiconductor' device used to amplify or switch electrical signals and power. The transistor is one of the basic building blocks of modern electronics. It is composed of semiconductor material (subsequently explained), usually with at least three terminals for connection to an electronic circuit.
A voltage or current applied to one pair of the transistor's terminals controls the current through another pair of terminals. Because the controlled (output) power can be higher than the controlling (input) power, a transistor can amplify a signal. Some transistors are packaged individually, but many more are found embedded in integrated circuits.
A semiconductor material has an electrical conductivity value falling between that of a conductor, such as metallic copper, and an insulator, such as glass. Its resistivity falls as its temperature rises; metals behave in the opposite way. Its conducting properties may be altered in useful ways by introducing impurities ("doping") into the crystal structure.
When two differently doped regions exist in the same crystal, a semiconductor junction is created. The behaviour of charge carriers, which include electrons, ions, and electron holes, at these junctions is the basis of diodes, transistors, and most modern electronics. Some examples of semiconductors are silicon, germanium, gallium arsenide, and elements near the so-called "metalloid staircase" on the periodic table.
The first transistor was successfully demonstrated on December 23, 1947 at Bell Laboratories in Murray Hill, New Jersey. Bell Labs is the research arm of American Telephone and Telegraph (AT&T). The three individuals credited with the invention of the transistor were William Shockley, John Bardeen and Walter Brattain.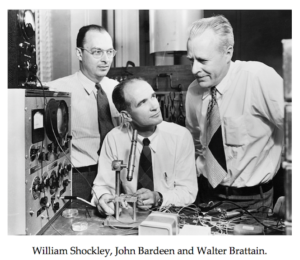 Electrical Expert Witness? Electrical dispute? Do you require the services of an experienced electrical expert witness? CPR 35 expert report? Contact Fraser George !!
About Dr Robert Brown:
Eur Ing Dr Robert Brown (Robert) is the Executive Director of Fraser George and Associates Limited and is a Consultant and Forensic Engineer in the fields Electrical Electronic and Control Engineering.
Robert is an accomplished professional Electrical Expert Witness having prepared and presented many court compliant reports and presented oral evidence within the High Court, Crown Courts and County Courts.
Robert is a registered Chartered Electrical Engineer, specialising in the fields are control engineering, parameter data capture and accurate data 'representation'. Robert graduated from Sheffield Hallam University with a first class honours degree in Electronic Systems and Control Engineering and followed this by completing doctorate research in Electrical Engineering, again at Sheffield Hallam University where Robert undertook research studies in the field of Disintegration and Arcing in Electrical Fuses. Robert is now considered to be a leading world expert in the field of electrical circuit protection systems, the phenomena of electrical fuse operation and the attributes of clearing 'fault' electrical current circumstances. Robert has published my pure and applied research studies in peer-refereed journals and at conference.
In his spare time Robert is a Formula 1 motor racing enthusiast and enjoys outdoor activities especially hill walking and scrambling, golf and fishing. Robert is a brass band enthusiast, a tuba player and band manager of Hatfield and Askern Colliery Band. When time allows Robert also enjoys travelling and reading any books associated with travel and popular science.
Robert's Curriculum Vitae:
https://www.dropbox.com/home?preview=CV+2023.pdf
Robert's litigation specialisms:
https://www.dropbox.com/home?preview=Legal+Litigation+Specialisms+2023.+docx.pdf
Robert's case portfolio:
https://www.dropbox.com/home?preview=Case+History+2023.pdf
Robert's notable cases:
https://www.dropbox.com/home?preview=Notable+Cases+2023.pdf
For further information please contact Robert via;
Email,…robert.brown@frasergeorge.com   or   robertbrown@robertbrown.uk.com
Tel Land: +44 (0)1777 709175
Tel Mobile: +44 (0) 7976250624
https://www.facebook.com/Fraser.George.Electrical.Expert
https://www.facebook.com/EurIngDrRobertBrown
https://www.linkedin.com/in/consultantrobertbrown
https://www.linkedin.com/company/21539092
Websites: www.frasergeorge.com and www.robertbrown.uk.com
https://frasergeorge.com/contact-us/
#ElectricalExpertWitness, #ElectricalEngineerExpertWitness, #ExpertWitnessElectricalEngineer, #ElectricalExpert, #ElectronicExpertWitness ,#ElectronicExpert, #ElectricalShock, #ElectricalRegulations, #ElectricalStandards, #ElectricalConsultant, #ConsultantElectricalEngineer, #ConsultantEngineer, #ForensicEngineerElectrical, #ForensicElectricalEngineer, #ElectricalRegulationsExpert, #ElectricalStandardsExpert, #ExpertElectricalEngineer,