Electrical Engineer Expert Witness? Electrical dispute? Do you require the services of an experienced electrical engineer expert witness? CPR 35 expert report? Contact Fraser George !!
Pioneers of Electrical/Electronic Engineering – Benjamin Franklin FRS FRSA FRSE (1706 – 1790)
Benjamin Franklin FRS FRSA FRSE (1706 – 1790) was an American polymath who was active as a writer, scientist, inventor, statesman, diplomat, printer, publisher and political philosopher.
A painting of Benjamin Franklin from 1778
As a scientist, Franklin was a major figure in the American Enlightenment and the history of physics for his discoveries and theories regarding electricity. As an inventor, he is known for the lightning rod, bifocals, and the Franklin stove, among other inventions.
Franklin started exploring the phenomenon of electricity in 1746 when he saw some of Archibald Spencer's lectures using static electricity for illustrations. Franklin proposed that "vitreous" and "resinous" electricity were not different types of "electrical fluid" (as electricity was called then), but the same "fluid" under different pressures.
In 1748, Franklin constructed a multiple plate capacitor, that he called an "electrical battery" (not a true battery like Volta's pile) by placing eleven panes of glass sandwiched between lead plates, suspended with silk cords and connected by wires.
Franklin briefly investigated electrotherapy, including the use of the electric bath. This work led to the field becoming widely known. In recognition of his work with electricity, Franklin received the Royal Society's Copley Medal in 1753, and in 1756, he became one of the few 18th-century Americans elected as a fellow of the Society.
Kite experiment and lightning rod
Franklin published a proposal for an experiment to prove that lightning is electricity by flying a kite in a storm. On May 10, 1752, Thomas-François Dalibard of France conducted Franklin's experiment using a 40-foot-tall (12 m) iron rod instead of a kite, and he extracted electrical sparks from a cloud. On June 15, 1752, Franklin may possibly have conducted his well-known kite experiment in Philadelphia, successfully extracting sparks from a cloud. Franklin was careful to stand on an insulator, keeping dry under a roof to avoid the danger of electric shock. Others, such as Georg Wilhelm Richmann in Russia, were indeed electrocuted in performing lightning experiments during the months immediately following Franklin's experiment.
Franklin's electrical experiments led to his invention of the lightning rod. Franklin said that conductors with a sharp, rather than a smooth point could discharge silently and at a far greater distance. Franklin surmised that this could help protect buildings from lightning by attaching "upright Rods of Iron, made sharp as a Needle and gilt to prevent Rusting, and from the Foot of those Rods a Wire down the outside of the Building into the Ground; … Would not these pointed Rods probably draw the Electrical Fire silently out of a Cloud before it came nigh enough to strike, and thereby secure us from that most sudden and terrible Mischief!" Following a series of experiments on Franklin's own house, lightning rods were installed on the Academy of Philadelphia (later the University of Pennsylvania) and the Pennsylvania State House (later Independence Hall) in 1752.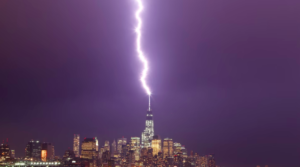 About Dr Robert Brown:
Eur Ing Dr Robert Brown (Robert) is the Executive Director of Fraser George and Associates Limited and is a Consultant and Forensic Engineer in the fields Electrical Electronic and Control Engineering.
Robert is an accomplished professional Electrical Expert Witness having prepared and presented many court compliant reports and presented oral evidence within the High Court, Crown Courts and County Courts.
Robert is a registered Chartered Electrical Engineer, specialising in the fields are control engineering, parameter data capture and accurate data 'representation'. Robert graduated from Sheffield Hallam University with a first class honours degree in Electronic Systems and Control Engineering and followed this by completing doctorate research in Electrical Engineering, again at Sheffield Hallam University where Robert undertook research studies in the field of Disintegration and Arcing in Electrical Fuses. Robert is now considered to be a leading world expert in the field of electrical circuit protection systems, the phenomena of electrical fuse operation and the attributes of clearing 'fault' electrical current circumstances. Robert has published my pure and applied research studies in peer-refereed journals and at conference.
In his spare time Robert is a Formula 1 motor racing enthusiast and enjoys outdoor activities especially hill walking and scrambling, golf and fishing. Robert is a brass band enthusiast, a tuba player and band manager of Hatfield and Askern Colliery Band. When time allows Robert also enjoys travelling and reading any books associated with travel and popular science.
Robert's Curriculum Vitae:
https://drive.google.com/file/d/1GihZlqFQgqj2GUvJ6Qyq8C0qUk_ex9K1/view?usp=sharing
Robert's litigation specialisms:
https://drive.google.com/file/d/1j82-viH_6kWaegdLl_GRRAFcEaHUm0wM/view?usp=sharing
Robert's case portfolio:
https://drive.google.com/file/d/1xec5cowOe184V7ejCXKtHn8ELGKE0e3d/view?usp=sharing
Robert's notable cases:
https://drive.google.com/file/d/11VUNbJOadHKOyEoOfY8xTZaAokElJAdH/view?usp=sharing
For further information please contact Robert via;
Email,…robert.brown@frasergeorge.com   or   robertbrown@robertbrown.uk.com
Tel Land: +44 (0)1777 709175
Tel Mobile: +44 (0) 7976250624
https://www.facebook.com/Fraser.George.Electrical.Expert
https://www.facebook.com/EurIngDrRobertBrown
https://www.linkedin.com/in/consultantrobertbrown
https://www.linkedin.com/company/21539092
Websites: www.frasergeorge.com and www.robertbrown.uk.com
https://frasergeorge.com/contact-us/
#ElectricalExpertWitness, #ElectricalEngineerExpertWitness, #ExpertWitnessElectricalEngineer, #ElectricalExpert, #ElectronicExpertWitness ,#ElectronicExpert, #ElectricalShock, #ElectricalRegulations, #ElectricalStandards, #ElectricalConsultant, #ConsultantElectricalEngineer, #ConsultantEngineer, #ForensicEngineerElectrical, #ForensicElectricalEngineer, #ElectricalRegulationsExpert, #ElectricalStandardsExpert, #ExpertElectricalEngineer,